The Department of Veterans Affairs (VA) provides hearing loss compensation to veterans who developed a hearing condition from active-duty service or who already had a hearing condition that was worsened by active military service. The VA service-connected disability program can give disability benefits to former servicemembers who suffer from hearing loss or tinnitus. To file a VA hearing loss compensation claim, a military veteran needs to fill out VA Form 21-526, Veterans Application for Compensation and/or Pension, or apply online using VONAPP.
Servicemembers who want additional compensation for hearing loss may be entitled to recover from a 3M defective combat earplug lawsuit. Allegedly, 3M supplied defective combat earplugs to the military from 2003 to 2015. Some servicemembers are asking for information about the earplug lawsuit claim form, or for assistance from our personal injury lawyers.
Typical VA Compensation for Hearing Loss
For VA compensation, the VA rates your hearing loss on a scale of 0 to 100 percent. The VA hearing loss disability rating affects the level of compensation you can receive. For 2019, the VA hearing loss disability compensation rates are:
| | |
| --- | --- |
| VA Hearing Loss Disability Rating | Monthly VA Disability Compensation |
| 0% | $0 per month |
| 10% | $140 per month |
| 20% | $277 per month |
| 30% | $429 per month |
| 40% | $618 per month |
| 50% | $879 per month |
| 60% | $1,114 per month |
| 70% | $1,404 per month |
| 80% | $1,632 per month |
| 90% | $1,834 per month |
| 100% | $3,057 per month |
Source: U.S. Department of Veterans Affairs
A diagnosis of tinnitus automatically results in a VA disability compensation rating of 10%.
Ask about compensation for service-connected hearing loss or tinnitus
What is the maximum VA rating for hearing loss?
For tinnitus, whether it affects one or both ears, the highest VA disability rating that a veteran can receive is 10%. For hearing loss, veterans unfortunately often receive 0% unless the hearing loss is severe.
The VA hearing loss rating system depends on hearing abilities of both the poorer and better ears. VA compensation may be higher for bilateral hearing loss.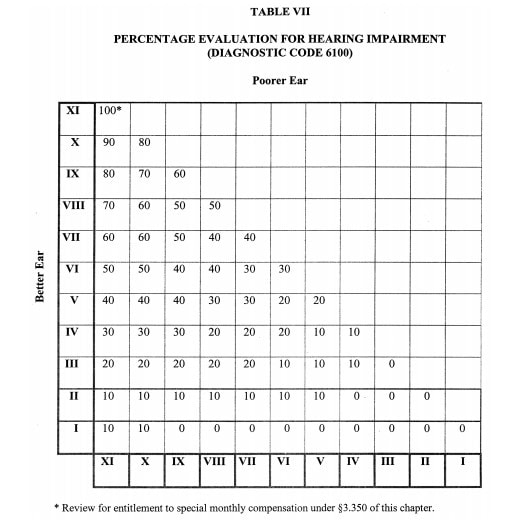 Proving VA Disability Hearing Loss "Service Connected"
(1) VA Approved Diagnosis for Hearing Loss
One step to getting service-connected disability payments from the VA is to get a qualifying medical diagnosis. The VA is strict that the diagnosis for hearing loss must be based on two hearing tests administered by a licensed audiologist (hearing loss specialist).
One of the hearing tests measures speech recognition: how many words, out of 50, can a veteran hear and recognize.
The other hearing test measures overall hearing capabilities: testing the faintest tone that the veteran can hear.
(2) Evidence That Hearing Loss is Service Connected
Another part of establishing entitlement to VA compensation is to offer evidence that something during the veteran's service caused or contributed to the hearing loss.
New allegations against 3M may establish that active duty servicemembers were given defective combat earplugs. In addition to VA benefits, it may also be possible to recover damages from 3M — the earplug manufacturer — through a defective earplug lawsuit .
Veterans Hearing Loss Compensation Act of 2002
The Veterans Hearing Loss Compensation Act of 2002, was a <href="https://www.congress.gov/congressional-report/107th-congress/senate-report/234″>proposed Senate bill that was passed as part of the Veterans Benefits Improvement Act of 2002. The Act eliminated the requirement of total deafness for a veteran to receive service-connected disability benefits. The Act also required the VA to partner with the National Academy of Sciences to study the relationship between military service and later loss of hearing. The Act requires the VA to consider the outcomes of the study in determining what types of occupational specialties within the armed forces should qualify for VA disability benefits for acoustic trauma.
Speak to an attorney about your hearing loss/tinnitus
About Us
Gibbs Law Group is a California-based law firm committed to protecting the rights of clients nationwide who have been harmed by corporate misconduct. We represent individuals,
whistleblowers
,
employees
, and small businesses across the U.S. against the world's largest corporations. Our award-winning lawyers have achieved landmark
recoveries
and over a billion dollars for our clients in high-stakes class action and individual cases involving
consumer protection
, data breach, digital privacy, and federal and
California employment
lawsuits. Our attorneys have received numerous honors for their work, including "Top Plaintiff Lawyers in California," "Top Class Action Attorneys Under 40," "Consumer Protection MVP," "Best Lawyers in America," and "Top Cybersecurity/ Privacy Attorneys Under 40."