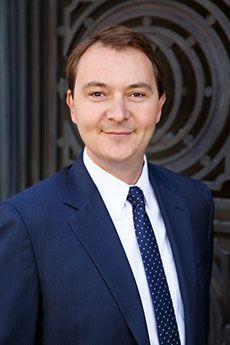 David Stein Selected to "Top 40 Under 40" by Daily Journal
April 12, 2017
David Stein was named today to the Daily Journal's "Top 40 Under 40" list for 2017. The Daily Journal selects top young attorneys from throughout California for the honor based on nominations of lawyers across all practice areas, as well as from public agencies, corporations and non-profits.
In the Daily Journal feature, David described what motivated him to focus his legal career on representing consumers class actions. "I wanted the opportunity to help people that wouldn't necessarily have access to the courts, while litigating at a high level." The article also described David's advocacy on behalf of taxpayers in Guam, who he successfully represented in challenging their government's tax refund system, which had withheld refunds from taxpayers for years.
Established in 1893, the Daily Journal is known as one of the foremost legal publications in the U.S. The publication is widely respected by California attorneys in all practice areas for its extensive coverage and profiles of judges, appellate decisions, and other notable legal information.
About David Stein
David Stein represents consumers in complex consumer protection and financial fraud class actions, and co-authors Consumer Law Watch, a blog about emerging issues in class action law. He serves as court-appointed co-lead counsel in litigation involving excessive vibration in Honda CR-Vs, and was appointed as co-lead counsel in a class action brought on behalf of Hyundai Sonata owners whose vehicles suffered catastrophic engine failures, which recently settled for significant benefits to class members. In addition to his recognition by the Daily Journal, he has been honored by Super Lawyers as a "Rising Star" for four consecutive years since 2013.
Reputation for Excellence in Consumer Protection and Class Actions
In addition to David's recognition in the "Top 40 Under 40," many of the firm's attorneys have been recognized for their exceptional work. Eric Gibbs was recently honored as a "Consumer Protection MVP" by Law360, and as a "Top Plaintiff Lawyer in California for 2016" by the Daily Journal. Gibbs Law Group was distinguished as a Tier 1 law firm for plaintiffs' mass tort and class-action litigation in the 2013-2016 "Best Law Firms" list, an annual survey published in the U.S. News & World Report's Money Issue.
Fourteen of the firm's attorneys have been selected as Northern California Super Lawyers and Rising Stars. Mr. Girard and Mr. Gibbs were selected by their peers for inclusion in the Best Lawyers in America 2012-2016. Mr. Girard and Mr. Gibbs have both earned AV-Preeminent ratings from Martindale-Hubbell, recognizing them in the highest class of attorneys for professional ethics and legal skills.