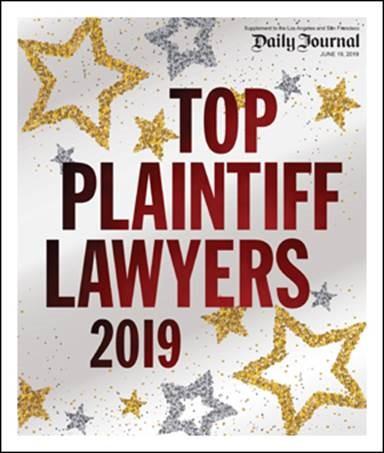 Eric Gibbs Selected to Daily Journal's "Top Plaintiff Lawyers for 2019"
June 24, 2019
Gibbs Law Group is excited to announce that Eric Gibbs, has been named to the Daily Journal's list of "Top Plaintiff Lawyers for 2019." This award honors attorneys who "use their legal skills to forge real and lasting change." The Daily Journal recognized Eric for his involvement in several notable cases over the past few years.
The Daily Journal feature mentioned Eric's leadership role in the Anthem data breach case, as well as litigation on behalf of those affected by the 2018 Camp Fire. The feature also quoted Eric in his idea of what makes a good plaintiff's attorney:
It's easy to point to numbers and focus on eye-popping settlements, but some of our best work isn't in the 9-figure settlement range. It's more about every detail- every piece of relief there is and responding to a grievance that plaintiffs brought, and putting in the time and effort to figure out what the class cares about, so that at the end they say, 'That's great, that really helps me.'
Established in 1893, the Daily Journal is known as one of the foremost legal publications in the U.S. The publication is widely respected by California attorneys in all practice areas for its extensive coverage and profiles of judges, appellate decisions, and other notable legal information.
About Eric Gibbs
Eric Gibbs has recovered nearly a billion dollars for the clients and classes he represents. He has worked with plaintiffs in a variety of cases, including consumer class actions, employment, pharmaceutical, data breach and privacy, and medical device litigation. Last year he served on the four firm leadership team that negotiated a $115 million settlement in the Anthem Data Breach Lawsuit, for which the team received a California Lawyer Attorney of the Year (CLAY) Award. This constituted the largest class settlement of its kind in history.
Eric has negotiated groundbreaking settlements that resulted in meaningful reforms to business practices, and favorably impacted plaintiffs' legal rights. He has previously been recognized by Law360 as a "Cybersecurity and Privacy MVP," and a "Consumer Protection MVP." In 2016, he was also honored by the Daily Journal as a "Top Plaintiff Lawyer in California."
About Gibbs Law Group
Gibbs Law Group is a California-based law firm committed to protecting the rights of plaintiffs who have been harmed by corporate misconduct. We represent individuals, whistleblowers, employees, and small businesses across the U.S. against the world's largest corporations. Our award-winning lawyers have achieved landmark recoveries and over a billion dollars for our clients in high-stakes class action and individual cases involving consumer protection, data breach, digital privacy, and federal and California employment lawsuits. Our attorneys have received numerous honors for their work, including "California Lawyer Attorney of the Year (CLAY) Award," "Top Plaintiff Lawyers in California," "Top Class Action Attorneys Under 40," "Consumer Protection MVP," "Best Lawyers in America," and "Top Cybersecurity/ Privacy Attorneys Under 40."