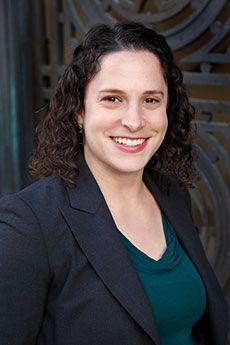 Amanda Karl represents consumers, employees and others who have been harmed by corporations.  She has prosecuted a wide range of complex cases, including product defect, failure-to-warn, wage and hour, data breach, sexual assault, and securities cases, within a variety of industries. In addition, Amanda is committed to fighting voter suppression—she spearheads Gibbs Law Group's Voting Rights Task Force.
Amanda is a 2014 graduate (Order of the Coif) of the University of California at Berkeley School of Law, where she served as the Managing Editor of the California Law Review and Director of the Workers' Rights Disability Law Clinic. During law school, she worked as a Clinical Law Student at the East Bay Community Law Center, assisting with litigation targeting criminal record reporting violations, and as a law clerk at Equal Rights Advocates, working on women's employment issues. Following graduation from law school, she served as a law clerk to the Honorable Richard A. Paez, United States Court of Appeals for the Ninth Circuit and to the Honorable Claudia Wilken, Northern District of California.  Amanda received her undergraduate degree, magna cum laude, in Sociology and Human Rights from Columbia University in 2009.
Outside of work, Amanda serves on the Board of Directors of the East Bay Community Law Center, a legal nonprofit organization that is both the largest provider of free legal services in the East Bay Area and Berkeley Law's largest clinical offering. She also enjoys reading, strength training, and exploring new places and foods with her husband and son.
"Amanda was very relatable and built wonderful rapport."
- Bridget S.
Rising Star, Northern California Super Lawyers, 2018-2023
J.D., Order of the Coif, University of California at Berkeley, Berkeley Law, 2014
B.A., magna cum laude, Columbia University, 2009
East Bay Community Law Center, Board Member
Consumer Attorneys of California, Board Member
American Association for Justice
Presentations & Articles
+
The Impact & Implications of Viking River Cruises, Inc. v. Moriana
CAOC Annual Convention
November 18, 2022
PAGA After the Viking River Decision
Bridgeport
July 15, 2022
Rapid Response: Recent SCOTUS Ruling—Viking River Cruises, Inc. v. Moriana
American Association for Justice
June 27, 2022
Rule 12 and Related Motions
Pincus Federal Boot Camp
May 24, 2022
Looking Forward Post-COVID
CAOC Sonoma Travel Seminar
March 11-12, 2022
Work Unseen: Successfully Effectuating a Damages Class Settlement
Daily Journal
November 11, 2021
Unpacking Public Interest Law
People's Parity Project
April 14, 2021
Wage and Hour Litigation & Enforcement Webinar
HB Litigation
February 18, 2020
Epic Systems And The Erosion Of Federal Class Actions
Law360 Expert Analysis
July 5, 2018
From Clerkship to Career in Public Interest
Berkeley Consumer Advocacy and Protection Society
October 23, 2017
California Omissions Claims: Safety Required?
Law360 Expert Analysis
February 15, 2017