Eric Gibbs Featured in Profile by Law360
May 8, 2019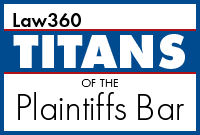 Gibbs Law Group's managing partner, Eric Gibbs, was profiled by legal news publication, Law360, for his recent recognition as a "2019 Titan of the Plaintiffs Bar." The award honors a select group of top plaintiffs' attorneys described as "champions in the courtroom who not only capture massive settlements and go up against big-name companies, but also take on leadership roles at their offices and elsewhere."
Law360's profile recognizes Eric as someone who "is motivated to hold powerful interests accountable for wrongdoing," noting that his unusual career path- by way of a job in his early 20s in the mail room of a San Francisco plaintiffs' firm- first got him interested in a career representing plaintiffs. Lawyers who worked with him in that first job noted how he stood out even back then:
"I thought he was a pretty talented guy right away, even though he didn't fit the profile of a polished legal professional," said Daniel Girard.
"He cared so much about his job, about our clients and our cases. When somebody cares like that, it elevates whatever job they are doing," said Elizabeth Cabraser, one of the firm's founding partners.
Since then, Law360 notes, Eric has made a name for himself with the founding of Gibbs Law Group. "The firm represents consumers both in California — including victims of last year's deadly Camp Fire that scorched over 150,000 acres in the northern part of the state — and in nationwide classes, like those impacted by massive data breaches from health care giant Anthem Inc., credit reporting company Equifax Inc. and TV maker Vizio Inc."
Now widely recognized as a top-tier lawyer for plaintiffs, Eric explains that his motivation hasn't changed:
"I'm still motivated by the same stuff, which is figuring out how to address often what is some significant wrongdoing by powerful interests," he said. "Figuring out how to right wrongs, how to resolve cases in a meaningful way to class members, I still find all of those things as important as I did 30 years ago."
View Eric's full profile on Law360.
About Eric Gibbs
Eric Gibbs has recovered nearly a billion dollars for the clients and classes he represents. He has negotiated groundbreaking settlements that resulted in meaningful reforms to business practices, and have favorably impacted plaintiffs' legal rights. He has been appointed by Courts throughout the country to leadership positions in a variety of high-profile lawsuits, including cases involving cybersecurity, privacy laws and consumer protection claims. Last year he served on the four firm leadership team that negotiated a $115 million settlement in the Anthem Data Breach Lawsuit, for which the team received a California Lawyer Attorney of the Year (CLAY) Award. Eric has previously been recognized by Law360 as a "Cybersecurity and Privacy MVP," and a "Consumer Protection MVP." In 2016, he was honored by the Daily Journal as a "Top Plaintiff Lawyer in California."
About Gibbs Law Group
Gibbs Law Group is a California-based law firm committed to protecting the rights of plaintiffs who have been harmed by corporate misconduct. We represent individuals, whistleblowers, employees, and small businesses across the U.S. against the world's largest corporations. Our award-winning lawyers have achieved landmark recoveries and over a billion dollars for our clients in high-stakes class action and individual cases involving consumer protection, data breach, digital privacy, and federal and California employment lawsuits. Our attorneys have received numerous honors for their work, including "California Lawyer Attorney of the Year (CLAY) Award," "Top Plaintiff Lawyers in California," "Top Class Action Attorneys Under 40," "Consumer Protection MVP," "Best Lawyers in America," and "Top Cybersecurity/ Privacy Attorneys Under 40."