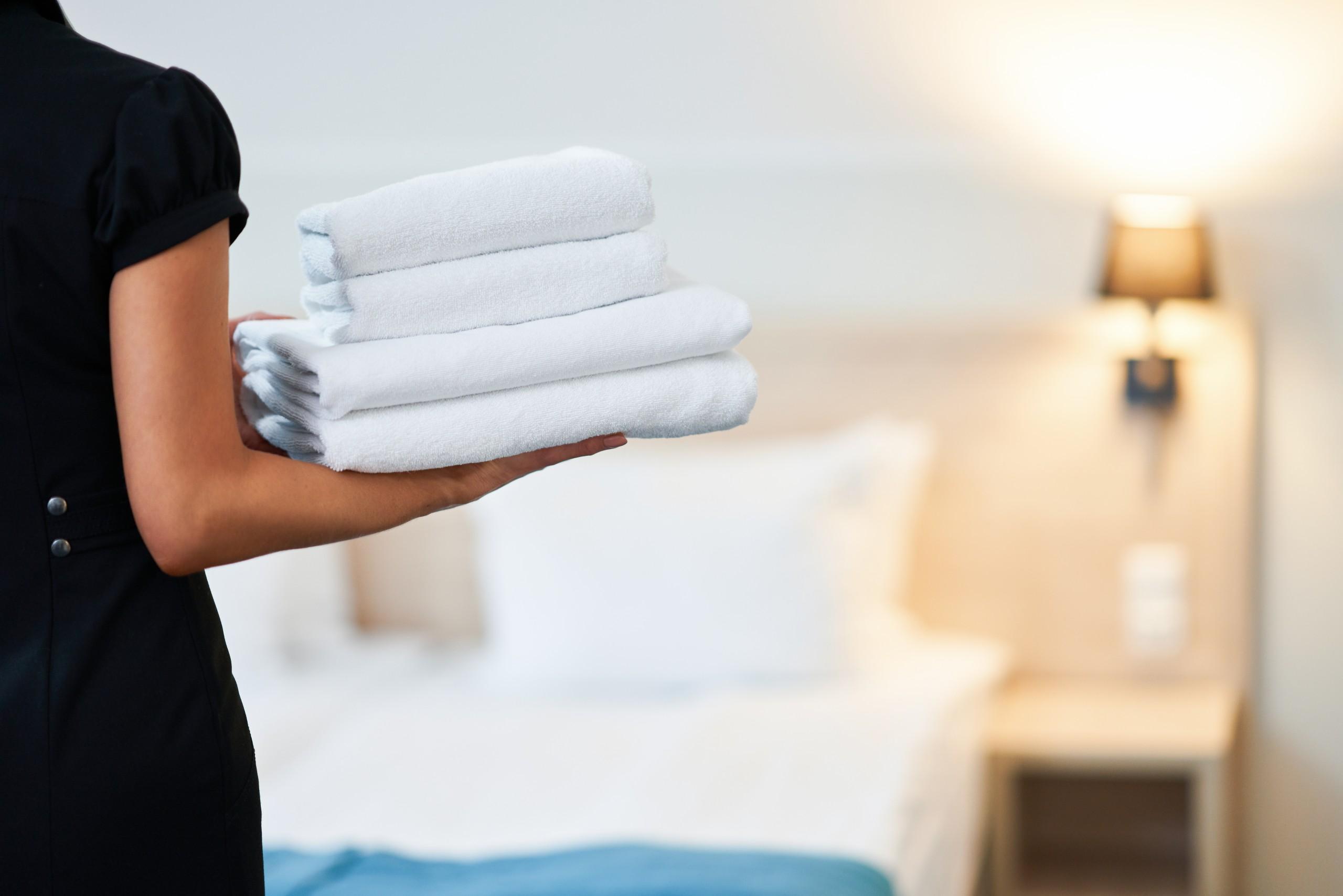 Hotel Housekeeper Lawsuit Investigation
Hotels that limit daily room cleaning may hurt housekeeper earnings and workplace rights
Major hotel brands like the Marriott, Hilton, and Hyatt have begun implementing a new pandemic-era business model meant to cut labor costs by shifting away from daily room cleaning and laying off hotel cleaning staff. As a result, hotel housekeepers across the country are reporting that they now are left without a job, or with reduced hours and wages, along with an unmanageable workload.
Forced to work unfair hours or in unfair conditions as a hotel housekeeper?
You may have a legal claim. Contact us for a free, confidential consultation.
loading...
Major Hotel Chains Cut Cleaning Staff, Leaving Marriott, Hilton, and Hyatt Housekeepers With Unmanageable Workloads
The hospitality industry has lost money amidst the uncertainty of pandemic travel.  Data from an October 2020 U.S. Travel Association report shows that nearly half of the 16.9 million jobs in the Leisure & Hospitality industry were lost in March and April of 2020, and the industry has yet to fully rebound.
According to the Washington Post, hotel executives have been giving presentations to investors throughout the pandemic regarding their plans to reduce labor costs and increase efficiency by cutting back on services like daily cleaning and breakfast spreads. Some hotels are implementing "check-out only" cleaning, or "opt-in" cleaning, where guests can choose how often they want their rooms cleaned, which some executives claim helps prevent the spread of the coronavirus through limiting contact between guests and staff. However, many hotel housekeepers are unhappy with the changes, saying that they now must clean rooms with days' worth of accumulated dirt and trash, but in the same amount of time previously allotted for daily cleaning, potentially forcing them to work off the clock, or through their meal and rest breaks, so that they don't face consequences.
Union Reports on how Ending Daily Hotel Room Cleaning Hurts Housekeeping Workers
A June 2021 report released by labor union Unite Here details how the hotel industry's plan to end daily housekeeping could mean that about 39% of all cleaning jobs in hotels would be permanently slashed. Further, the report describes how getting rid of daily cleaning creates "unsafe workloads" because housekeepers who remain on the job are forced to clean rooms that have gone days without cleaning, but in a short amount of time. The union's president, D. Taylor, explains:
"The hotel industry is trying to get back to full occupancy without ever bringing back its full workforce…That's bad for workers and guests, because hotel executives are using covid-19 as an opportunity to eviscerate housekeeping jobs and cut cleaning services."
And even as U.S. Bureau of Labor Statistics data from June 2021 shows a recent increase in leisure and hospitality jobs as some pandemic-restrictions are eased, the sector still faces high unemployment rates, and housekeepers who have returned to work are bearing the brunt of an unfair workload. Data from an American Hotel and Lodging Association report points to the fact that even with jobs being added to the hotel industry in 2021, the industry will still remain nearly 500,000 jobs below pre-pandemic employment level of 2.3 million employees.
Reduction in Hotel Cleaner Workforce Led to Unfair Working Conditions, according to Current Housekeepers
One housekeeper named Pauline Petit-Homme told the New York Times that when she was called into work at the Fontainebleau Hotel after being furloughed for three months, she was instructed to only clean rooms when guests checked out, instead of daily. Her management explained that there weren't enough guests to bring back more of her co-workers, but Petit-Homme disagrees, explaining that she believes the hotel can afford to bring back more staff, and that fewer staff members now means that housekeepers like her are forced to "do more work in the same time."
Other housekeepers interviewed by the New York Times say that for decades, hotels have created programs that discourage guests from requesting housekeeping through offering reward points, or by framing the decision to forgo daily cleaning as an environmental imitative, and the pandemic has only given hotels an excuse to further cut costs, arguably at the expense of worker's wellbeing and rights.
Experience unfair working conditions as a hotel housekeeper?
Our Employment Attorneys
Aaron Blumenthal
Aaron represents consumers, employees, and whistleblowers in class actions and other complex litigation.
View full profile
Steven Tindall
Steven specializes in employment litigation and has been lead or co-lead counsel on several cases that resulted in settlements of over $1 million.
View full profile
Linda Lam
Linda focuses her practice on representing consumers, small businesses, and employees in complex litigation.
View full profile
Brian Bailey
Brian represents clients harmed by misconduct in complex employment discrimination, personal injury, and consumer protection litigation.
View full profile
About Us
Gibbs Law Group is a California-based law firm committed to protecting the rights of clients nationwide who have been harmed by corporate misconduct. We represent individuals, whistleblowers, employees, and small businesses across the U.S. against the world's largest corporations. Our award-winning lawyers have achieved landmark recoveries and over a billion dollars for our clients in high-stakes class action and individual cases involving consumer protection, data breach, digital privacy, and federal and California employment lawsuits. Our attorneys have received numerous honors for their work, including "Top Plaintiff Lawyers in California," "Top Class Action Attorneys Under 40," "Consumer Protection MVP," "Best Lawyers in America," and "Top Cybersecurity/ Privacy Attorneys Under 40."