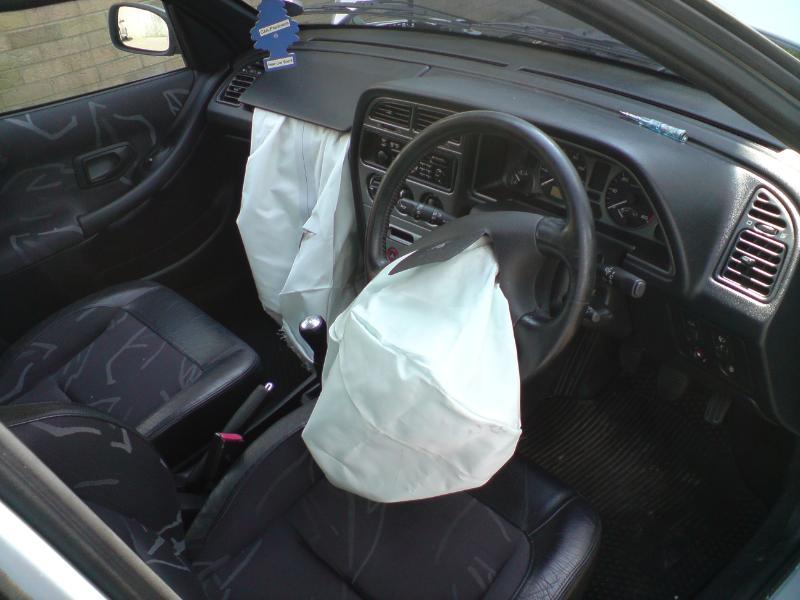 Airbag Control Unit Lawsuit
Your vehicle's crash sensor may be defective, causing air bags and seat belts to fail
Our attorneys have filed a class action lawsuit alleging a defect in 12.3 million airbag control units made by auto-part supplier ZF-TRW. According to the complaint, the affected airbag control units (ACUs) were installed in certain vehicles from car makers Honda, Toyota, Hyundai, Kia, Mitsubishi, and Fiat Chrysler. The affected vehicles include popular models such as Honda Civic (2012-2015), Dodge Ram 1500 (2009-2012), and Toyota Corolla (2011-2019). See below for a full list.
The airbag control module acts as a crash sensor, telling the airbag when to deploy and the seatbelt when to tighten. TRW crash sensor failures may be responsible for eight known deaths, according to the ACU class action lawsuit.
Read a copy of the complaint here.
Find out if you're affected:
Contact us for a free consultation.
loading...
Department of Transportation investigates ZF-TRW crash sensor defect
The transportation department's Office of Defects Investigation is looking into a defect that may cause certain TRW "airbag control units" to fail during a crash. Such failures, federal investigators say, could result in the airbag not deploying and the seatbelt not tightening during a collision. The Office of Defects Investigation says:
Certain FCA, Honda, Hyundai, Kia, Mitsubishi and Toyota vehicles are equipped with an air bag control unit produced by TRW (ZF), which could fail during a crash event resulting in non-deployment of air bags and seat belt pretensioners.
According to government reports, the following vehicles may be affected:
Car brand
Affected models
Acura
2014-2019 Acura RLX
2015-2017 Acura TLX
2012-2014 Acura TSX
Dodge
2009-2012 Dodge Ram 1500
2010-2012 Dodge Ram 2500/3500
2011-2012 Dodge Ram 4500/5500
Fiat
2012-2019 Fiat 500
Honda
2013-2015 Honda Accord
2012-2015 Honda Civic
2012-2016 Honda CR-V
2012-2017 Honda Fit
2012-2014 Honda Ridgeline
Jeep
2015-2017 Jeep Compass
2010-2012 Jeep Liberty
2015-2017 Jeep Patriot
2010-2018 Jeep Wrangler
Kia
2013 Kia Forte
2013-2019 Kia Optima
2012-2016 Kia Optima Hybrid
2014 Kia Sedona
Mitsubishi
2013-2017 Mitsubishi Lancer
2013-2015 Mitsubishi Lancer Evolution
2014-2015 Mitsubishi Ralliart
2013-2016 Mitsubishi Lancer Sportback
2013 Mitsubishi Outlander
Toyota
2012-2018 Toyota Avalon
2011-2019 Toyota Corolla
2012-2017 Toyota Sequoia
2012-2019 Toyota Tacoma
2012-2017 Toyota Tundra
Hyundai
2013-2019 Hyundai Sonata
2013-2019 Hyundai Sonata Hybrid
Defective Airbag Control Unit Lawsuit Filed
A class action lawsuit has been filed against TRW and its parent company (ZF), Honda, and Toyoto for equipping vehicles with allegedly defective airbag control units. The complaint says that TRW's control units don't have sufficient protection against electrical overstress, which can lead the units to fail during a crash. The lawsuit says that TRW control unit failures are implicated in six known injuries and four deaths.
Airbag control unit
Our Auto Defect Lawyers
Eric Gibbs
A founding partner at the firm, Eric has negotiated groundbreaking settlements that favorably shaped laws and resulted in business practice reforms.
View full profile
Dylan Hughes
Dylan concentrates his practice on investigating and prosecuting fraud matters on behalf of whistleblowers, consumers, and employees.
View full profile
Dave Stein
Dave represents clients in cases nationwide, ranging from securities and financial fraud cases to product liability, privacy, and data breach suits.
View full profile
Steve Lopez
Steve represents consumers, employees, and whistleblowers harmed by corporate misconduct in a variety of complex litigation cases.
View full profile
Our Results in Auto Defect Cases
We have prevailed against some of the world's largest corporations, in high stakes litigation on behalf of millions of consumers, including:
Hyundai Fuel Economy Lawsuit

$360 Million Settlement

Kia Horsepower Lawsuit

$125 Million Settlement
Honda Brake Pad Lawsuit

$25 Million Settlement

Mitsubishi Wheel Rim Lawsuit

$33 Million Settlement
Talk an auto defect lawyer:
About Us
Gibbs Law Group is a California-based law firm committed to protecting the rights of clients nationwide who have been harmed by corporate misconduct. We represent individuals,
whistleblowers
,
employees
, and small businesses across the U.S. against the world's largest corporations. Our award-winning lawyers have achieved landmark
recoveries
and over a billion dollars for our clients in high-stakes class action and individual cases involving
consumer protection
, data breach, digital privacy, and federal and
California employment
lawsuits. Our attorneys have received numerous honors for their work, including "Top Plaintiff Lawyers in California," "Top Class Action Attorneys Under 40," "Consumer Protection MVP," "Best Lawyers in America," and "Top Cybersecurity/ Privacy Attorneys Under 40."