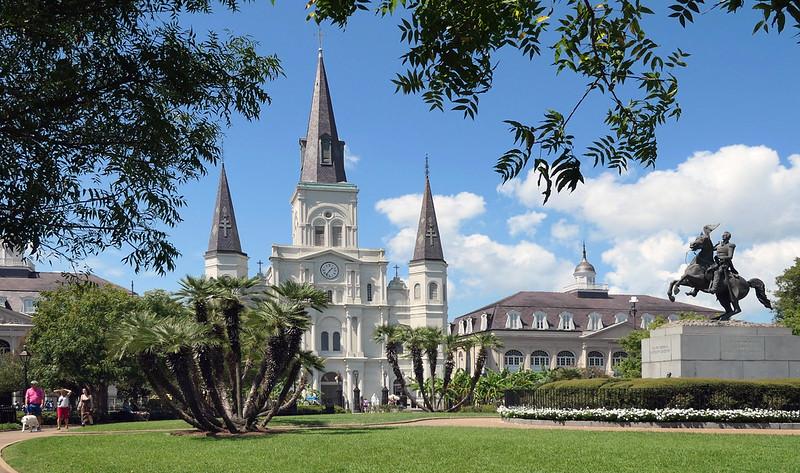 NOLA Catholic Clergy Sexual Abuse Lawsuit Investigation
Were you or a loved one harmed by a Catholic priest in Louisiana?
Many abuse survivors who have experienced horrific abuse by Catholic clergy have suffered in silence for many years.
The Archdiocese of New Orleans recently filed for  a "restructuring" bankruptcy. Now, parishioners or former parishioners who experienced sexual abuse by clergy have a limited amount of time to seek justice.
If you or a loved one were hurt by a priest or someone associated with the Catholic Church, our sexual assault attorneys are here to help.
Abused by clergy in NOLA?
Speak to an attorney confidentially. We can help you seek justice.
loading...
Catholic church bankruptcy: what does it mean for survivors?
If you've experienced abuse by a member of the clergy at a parish in the Archdiocese of New Orleans, we recommend you file a claim as soon as possible.
On May 1, 2020, the Archdiocese of New Orleans filed for chapter 11 bankruptcy, which is different from chapter 7 (the type of bankruptcy people file when they're broke). The federal bankruptcy judge will be setting a claims deadline. Any claims not filed by the deadline will be forfeited.
The bankruptcy allows abuse survivor to avoid filing a formal lawsuit, helping them keep their allegations more private. We are helping survivors file for free.
Here are some of the potential benefits to having to pursue your claims in bankruptcy court as opposed to filing a formal lawsuit:
claim process is less complicated and faster;
survivor experiences are more confidential; and
depositions (intense questioning by lawyers from the church) will not happen.
If you're a survivor of clergy abuse, our attorneys are here to help you understand what your options are.
Act soon, or you may forfeit your claim
Louisiana statute of limitations for child sex abuse
Many states have recently passed laws giving victims of sexual abuse more time to seek justice. According to NOLA.com, local members of the Survivors Network of those Abused by Priests (SNAP) have asked the Louisiana legislature to consider such a law extending the statue of limitations for sex abuse survivors.
In California, people who have experienced childhood sexual abuse now have a three-year window to file claims, no matter how long ago the abuse occurred. This window will last until the end of 2022.
Similarly, in New York, victims of childhood sexual abuse now have until age 55 to file a civil lawsuit and until age 28 to file criminal charges.
According to CBS news, the Catholic Church has spent $10.6 million lobbying against these laws in the northeastern U.S. alone. But despite these efforts, many states continue to explore and pass these laws expanding justice for survivors.
Report by Catholic Church on Clergy Abuse
On November 2, 2018, the Catholic Church issued a report regarding clergy abuse which included more than 60 names of priests who have been accused of sexually abusing a minor.
Read the report here: 2018 Report Regarding Clergy Abuse
Some court filings allege that the list is undercounted, and further, that the New Orleans Saints helped shape the list by offering advice on which names should and should not be included. (According to the Washington Post, the football team's owner, Gayle Benson, is a friend of Archbishop Gregory Aymond.) However, the Saints have claimed they only did "minimal" public relations work on the Roman Catholic sexual abuse crisis.
What parishes are included in the New Orleans Archdiocese sex abuse lawsuits?
The archdiocese encompasses eight civil parishes in the New Orleans metropolitan area: Jefferson, Orleans, Plaquemines, St. Bernard, St. Charles, St. John the Baptist, St. Tammany, and Washington.
Led by an archbishop, the Archdiocese of New Orleans is the center of a larger ecclesiastical province that encompasses the entire state of Louisiana. The Metropolitan Province of New Orleans include the suffragan Dioceses of Alexandria, Baton Rouge, Houma-Thibodaux, Lafayette, Lake Charles, and Shreveport.
Other diocese bankruptcies and Catholic priest sexual abuse lawsuits
According to NOLA.com, the Archdiocese of New Orleans is now one of 27 dioceses out of the Roman Catholic Church's +200 dioceses and religious orders in the U.S. to seek bankruptcy protection in response to the church's sex abuse crisis.
According to the WSJ, the Catholic church has pioneered the use of bankruptcy to contain the costs of sexual abuse cases; other organizations to follow suit include USA Gymnastics and Boy Scouts of America.
Our Firm's Experience Protecting Victims of Sexual Abuse
Our law firm has decades of experience in complex litigation, personal injury lawsuits and bankruptcy litigation. For example, we are pursuing sexual abuse claims against the Boy Scouts of America, we filed the first class action lawsuit on behalf of women sexually assaulted by UCLA gynecologist Dr. James Heaps, and our attorneys have years of experience representing victims of sexual harassment.
Our law firm has litigated complex issues in New Orleans federal court for years. Our firm partner Karen Barth Menzies currently holds a leadership position in Taxotere litigation, which is centralized in New Orleans. As co-lead counsel, Karen represents thousands of women who allege they unexpectedly suffered permanent, disfiguring hair loss (alopecia) after taking Taxotere as a cancer treatment.
We have successfully resolved numerous personal injury cases:
$2.37 billion settlement after Gibbs Law Group attorneys served on the plaintiffs' steering committee for people who developed bladder cancer after taking the diabetes drug Actos;
$1.6 billion settlement to individual claimants injured by the birth control drug Yaz;
$650 million settlement after Gibbs Law Group attorneys served on the plaintiffs' steering committee in a case involving the blood thinner Pradaxa.
Our attorneys are also currently representing fire victims in the PG&E bankruptcy cases, one of the largest bankruptcy cases in US history.
Our attorneys have received numerous honors for their work, including "Top Plaintiff Lawyers in California," "Top Class Action Attorneys Under 40," "Consumer Protection MVP," "Best Lawyers in America," and "Top Cybersecurity/ Privacy Attorneys Under 40."
Our Sexual Assault Attorneys
Karen Menzies
Karen has more than 20 years of experience advocating for people who've been taken advantage of. In New Orleans, she currently represents thousands of women who suffered harm after taking the drug Taxotere. She has achieved millions of dollars on behalf of people who have been injured by defective pharmaceutical drugs and medical devices in some of the largest cases in the country.
View full profile
Steven Tindall
Steven Tindall has specialized in employment and class action litigation for eighteen years. He has been lead or co-lead counsel on several cases that resulted in multi-million dollar settlements.
View full profile
Amy Zeman
Amy represents women in sexual abuse claims against UCLA doctor James Heaps. She also represents people who have been injured by defective drug and medical devices against some of the largest pharmaceutical companies in the world.
View full profile
Amanda Karl
Amanda is part of the legal team representing women in a class action lawsuit against UCLA doctor James Heaps for claims of sexual abuse.
View full profile
Steve Lopez
Steve represents consumers, employees, and whistleblowers harmed by corporate misconduct in a variety of complex litigation cases.
View full profile
About Us
Gibbs Law Group is a California-based law firm committed to protecting the rights of clients nationwide who have been harmed by corporate misconduct. We represent individuals,
whistleblowers
,
employees
, and small businesses across the U.S. against the world's largest corporations. Our award-winning lawyers have achieved landmark
recoveries
and over a billion dollars for our clients in high-stakes class action and individual cases involving
consumer protection
, data breach, digital privacy, and federal and
California employment
lawsuits. Our attorneys have received numerous honors for their work, including "Top Plaintiff Lawyers in California," "Top Class Action Attorneys Under 40," "Consumer Protection MVP," "Best Lawyers in America," and "Top Cybersecurity/ Privacy Attorneys Under 40."