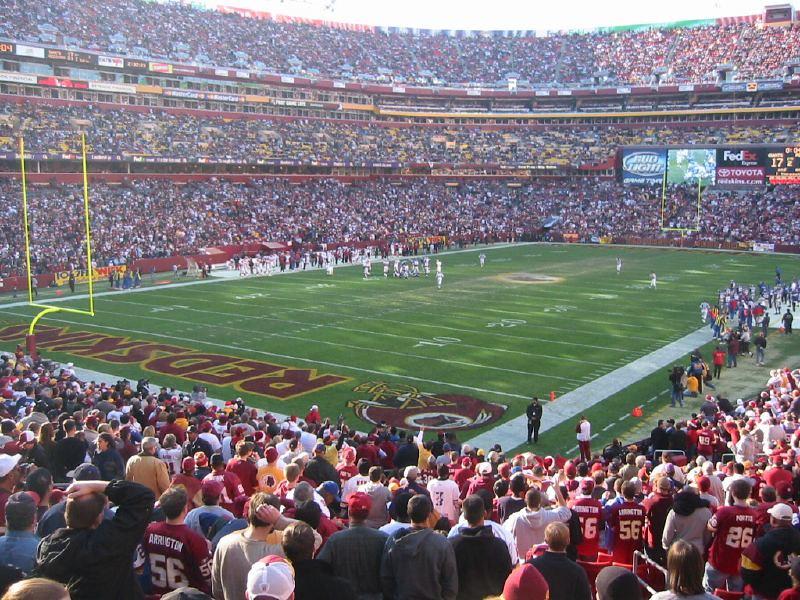 Washington Redskins Sexual Harassment Lawsuit Investigation
Washington Football Team staff report widespread harassment, toxic workplace culture
The Washington Post has reported allegations of relentless sexual harassment and verbal abuse from staff and leadership of the Washington Football Team. In addition, top team executives reportedly knew of this sexual harassment and did nothing to stop it—or worse, even condoned it.
If you experienced harassment while working for the team or with them (for example, as a reporter), we want to hear from you. Our experienced sexual assault and employment attorneys can help you get justice.
Did you experience sexual harassment by Washington Football Team leadership?
Our sexual assault attorneys can listen and help, at no cost to you.
loading...
NFL fines Washington Football Team $10 million
On July 1, 2021, the NFL announced it was fining the Washington Football Team $10 million for allegations of pervasive workplace sexual harassment under Dan Snyder's leadership. In a conference call about the announcement, the NFL's special counsel said: "The culture of the club was very toxic and fell far short of the NFL's values."
However, the NFL stated it would not release any details of its report or address any allegations of abuse specifically.
Anonymous sources revealed to the Washington Post that the NFL's investigation of Snyder also uncovered a $1.6 million settlement he paid to a former female employee alleging sexual misconduct from 2009. The NFL's own press release on their investigation, however, omits this past settlement.
Washington Football Team leadership fired in wake of sexual harassment allegations
From 2006 through 2019, the Washington Post reports that many women say they experienced the following harassment from Washington Football Club members and patrons:
unwanted touching
prolonged and brazen upskirt leering
repeated comments on appearance and direction to wear more revealing clothes
sexual comments
sexual propositions, in person and in late night texts
The article identifies these Redskins leaders as some of the alleged perpetrators. Soon after being contacted by the Washington Post, a number of them were fired:
Larry Michael, club's radio voice and Senior Vice President of Content—retired hours after WaPo requested an interview with him
Alex Santos, former Director of Pro Personnel—fired after WaPo informed the team of allegations against him
Richard Mann II, former Assistant Director of Pro Personnel—fired after WaPo informed the team of allegations against him
Dennis Greene, former President of Business Operations—fired in 2018
Mitch Gershman, former Chief Operating Officer—departed in 2015
Failure of leadership: toxic company culture at the Redskins under Daniel Snyder
According to the report by the Post, many women who've worked at the Washington Football Team say that club owner Daniel Snyder and former president Bruce Allen both knew about the pervasive harassment but did nothing to stop it. They say reports of sexual harassment were typically ignored or swept under the rug.
For example, in 2018, employees filed a complaint against Larry Michael after he was recorded on a hot mic making sexual comments about a college-aged intern. But when one employee submitted video of the incident, an attorney for the team simply deleted the video from the employee's hard drive. Staffers never learned whether Michael was disciplined.
"They're not going to get rid of 'The Voice of the Redskins'…over a $30,000-a-year marketing manager."
–anonymous male staffer
Our Firm's Our Firm's Experience Protecting Victims of Sexual Abuse
Our lawyers have decades of experience in complex litigation, personal injury lawsuits and bankruptcy litigation. For example, we are pursuing sexual abuse claims against the Boy Scouts of America, we filed the first class action lawsuit on behalf of women sexually assaulted by UCLA gynecologist Dr. James Heaps, and our attorneys have years of experience representing victims of sexual harassment.
We have successfully resolved numerous personal injury cases:
$2.37 billion settlement after Gibbs Law Group attorneys served on the plaintiffs' steering committee for people who developed bladder cancer after taking the diabetes drug Actos;
$1.6 billion settlement to individual claimants injured by the birth control drug Yaz;
$650 million settlement after Gibbs Law Group attorneys served on the plaintiffs' steering committee in a case involving the blood thinner Pradaxa.
Our attorneys are also currently representing fire victims in the PG&E bankruptcy cases, one of the largest bankruptcy cases in US history.
Our attorneys have received numerous honors for their work, including "Top Plaintiff Lawyers in California," "Top Class Action Attorneys Under 40," "Consumer Protection MVP," "Best Lawyers in America," and "Top Cybersecurity/ Privacy Attorneys Under 40."
Our Sexual Assault Attorneys
Amy Zeman
Amy represents women in sexual abuse claims against UCLA doctor James Heaps. She also represents people who have been injured by defective drug and medical devices against some of the largest pharmaceutical companies in the world.
View full profile
Karen Menzies
Karen has over two decades of litigation experience and is particularly focused on sexual abuse claims and women's health issues. She leads a current Boy Scouts of America sexual abuse lawsuit and also represents survivors who experienced Catholic Clergy sexual abuse in claims against the Archdiocese of New Orleans.
View full profile
Steven Tindall
Steven has specialized in employment and class action litigation for eighteen years. He has been lead or co-lead counsel on several cases that resulted in multi-million dollar settlements.
View full profile
Amanda Karl
Amanda is part of the legal team representing women in a class action lawsuit against UCLA doctor James Heaps for claims of sexual abuse.
View full profile
Steve Lopez
Steve represents consumers, employees, and whistleblowers harmed by corporate misconduct in a variety of complex litigation cases.
View full profile
About Us
Gibbs Law Group is a California-based law firm committed to protecting the rights of clients nationwide who have been harmed by corporate misconduct. We represent individuals,
whistleblowers
,
employees
, and small businesses across the U.S. against the world's largest corporations. Our award-winning lawyers have achieved landmark
recoveries
and over a billion dollars for our clients in high-stakes class action and individual cases involving
consumer protection
, data breach, digital privacy, and federal and
California employment
lawsuits. Our attorneys have received numerous honors for their work, including "Top Plaintiff Lawyers in California," "Top Class Action Attorneys Under 40," "Consumer Protection MVP," "Best Lawyers in America," and "Top Cybersecurity/ Privacy Attorneys Under 40."